8 Most Reliable On-Page SEO Techniques for Better Ranking
Whatever strategy you are going to make, On-page SEO will remain the most important out of them. On-page is not only important to get better ranking but to run successful marketing campaigns on Google AdWords and Facebook online campaigns.Every campaign will take your on-page SEO in focus and if the on-page is not optimized correctly, for both the search engines and for the users, your chances of getting success will be slim to none.
When it comes to on-page SEO, we have had heard enough about Meta tags and the keyword density with proper use of the keywords in H1, H2.There should be some practical, unusual, and reliable technique which can hit the nail right on the head.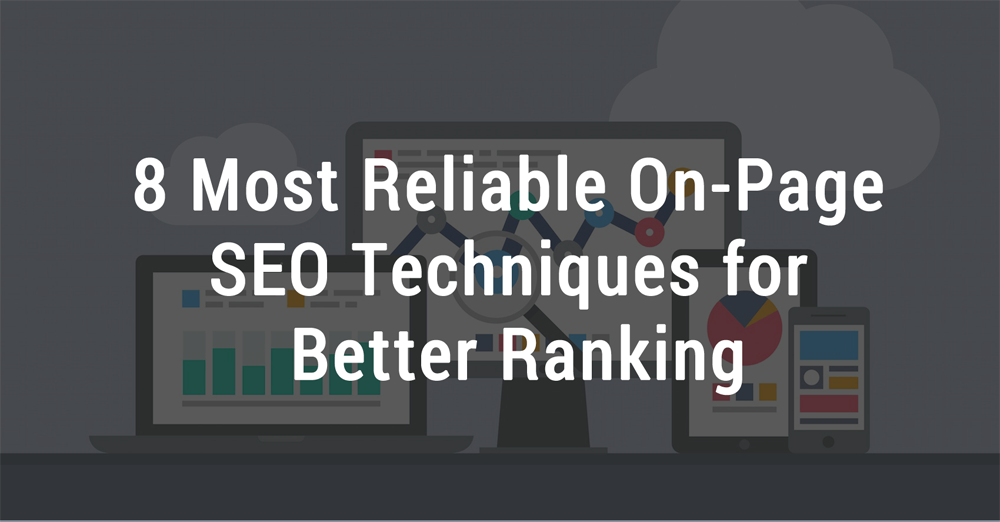 Many times having all the resources and the strategies, we were not about to get the keyword on the desired ranking. That is the time when you should check your website and see what are the backdoors which are not making you on the top of the lists?
You need to check these 8 points on your content if you have done it right.
8 Most Reliable On-Page SEO Techniques for Better Ranking
I am going to narrate the top 8 best techniques for better ranking of your website on SERP. Hope you will appreciate the hard work. If something does not work for you or you had already taken that step into counts, and yet not worked for you, just mention in the comment section.
Anchor Texts:
Anchor texts are the most underrated and not properly used SEO techniques, and the newbies do not take it seriously.
Underlined text or content that is clickable link known as Anchor text.
Using the appropriate anchor-texts for interlining the content or creating backlinks are the most important. Put the meaning full words, instead of putting, click here, read here or get to know. This thing makes the content meaningful, and the user can find the other topics related to that topic worth to read.
Start the title with your Keyword:
If possible try to put your keyword at the beginning of the title or the H1 tag.
The closer the keyword in the title, higher the conversion rates
For example, what backlinko explained?
If you are trying to write a title, regarding your services in search engine optimization
You are about to write an article, providing the "How to write an SEO friendly article".
You can write the title in this way, "SEO Friendly Article- How to create one".
Short URLs:
Now, it is not a hidden secret, Google like Short and SEO friendly URLs.
You need to check three things in your URLs before publishing it down
It should be short
No special character should be included in it
Do not use numbers, if not important
Long URLs are difficult to crawl by Google, Guest posting sites and if you add some special characters, that makes no sense to read out them and to get to know the meaning of them.
Add modifiers to your titles
Adding modifiers in the titles makes them click-able and attract. That is called advertising; present the positive side of the product in most attractive ways.
Try to add latest, 2018, Best, Unknown, Unfamiliar, in your titles
Like, if you are trying to guide people about ranking a Video on YouTube, you should write the title in a way
"7 unusual ways to rank A video on YouTube ".
Plus check if your Article title is wrapped in the H1 tag or not.
Optimize Multi-media:
No doubt text takes your website. But, images, videos can increase the user experience and reduce the bounce rates of a website.
Sometimes, the user does not understand what you elaborate in the article, and one diagram or infographics can make him understand the entire concept of an article.
Do not under-estimate the power of videos, most of the users do not like reading content. You should create videos regarding your post and should post alongside text content. This surely increases the user-experience and decrease the bounce rate.
You would have seen that big websites always use high resolutions images in their content.
You can take images from Google and can edit them according to your use. If you are a big fish, do not take risk of taking images from Google, you should use Royalty free images or should buy images.
Keyword at the beginning of the post:
Try to put drop your Keyword at the beginning of the post. As Google has increased the Meta descriptions length, and most of the time, Google take Meta descriptions from the beginning of the post.
If you drop the keyword, in the beginning, it will make to find Google the relevancy of the title to your post.
Update your content:
At the end, content is King. Nowadays, you would have seen websites getting ranking higher on SERP although they do not have any good backlinks.
So, try to keep your content up to date, and if possible accordingly the changes in your niche, change the content. Changing or editing some words would not help, add some paragraphs or add some more images if it suits. Always Pass your content from plagiarism before making it live. If you want to compare your text with some specific webpage, then diff checker is good for it.
Outbound Links:
Outbound Links to the higher authority website definitely boost your ranking.
As Google crawlers find the authority websites more trusted, and if you are pointing towards them, it also makes you somehow more trusted than you are before.
If you think, the website is not as trusted as you were expecting, you can use the No-follow tag that will be better for you to make your link profile clean.  Try to give links to high authority websites, because linking to low authority sites may harm your ranking. Check Domain authority of website before linking it to your website.
User Experience is Ultimate
After coming off the Artificial Intelligence especially RankBrain, Google checks the user experience more than the backlinks to rank a website.
If you are not good enough to provide the best thing, at least make it look great.
So, your website should be properly formatted, should be written in easy words, and should have clean navigations. At the end that is your website where visitors Land, if you are not making them happy with your services, whatever you had been doing, you are not going to win that battle for sure.