What Is Scooter Sharing App: Main Tips for E-Scooter App Development
Today, the whole world is concerned with nature protection so lots of people decide to refuse to use vehicles and choose the eco-friendly type of transport. E-scooters are among the most popular city options of that kind. Yet having an electric scooter is sometimes simply impossible. In that case, scooter-sharing services gain popularity. For starting that business, you need several features to be combined. These are the e-scooter fleet itself, your willingness to be engaged in this business, and a scooter-sharing app that will help to cope with all the processes. If the first two features can be simply gained, let's focus on e-scooter app development and its specifics.
What Functions Should a Good E-Scooter App Have
When you need to get services in the field of electric scooter app development, the first thing you should think about is what functions should your e-scooter app have. It is reasonable as the concept leads to the idea, and the idea can be delegated to the e-scooter app development company to be implemented in the product.
So there are several requirements for a scooter-sharing application you can take into account before you start with it. 
Cross-platform nature of an app. Your application should suit at least two main OSes to be run on – iOS and Android. Developing two separate applications is costly so it is more profitable to apply for the

development

of the cross-platform application.

A CRM is integrated to manage the business through a single app, not with several different products.

Real-time functions like GPS tracking should be implemented with no delays. This function is especially important for a scooter-sharing business to track each scooter from your fleet and to provide customers with instant updates. 

Payment systems launched to an app. The customer should have an opportunity to pay instantly for scooter-sharing services through the application.

Smart locking and unlocking of a scooter are also among the required features.

Feedback opportunities as the business needs to get relevant feedback from customers.
All other functions can also be added yet they may specify for each business. 
How to Collect a Team for Scooter Sharing App Development
When talking about the team you may need for e-scooter app development, let's bring an example of a successful case that RexSoft shared with us. This company had already launched a Ukraine-based C24 e-scooter sharing product so its experience is relevant to the key question.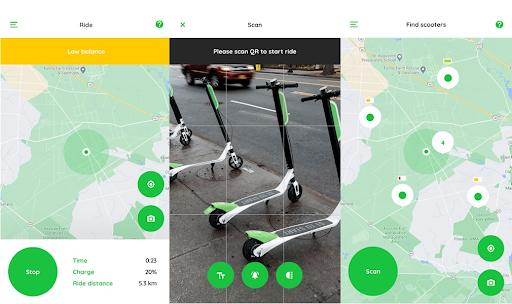 So, for the development of a scooter-sharing app, you may need the following team that consists of:
A project manager who may guide the process and control the performance of all the tasks included.

Designers whose task was to create an IoT interface that will comply with all the functions and will be user-friendly and intuitive at once.

Developers whose task was to develop both front-end and back-end parts of a product using several technologies.

QA to test the product regularly and to give a green light to the tested product.
This combo of specialists is a must for e-scooter app development today.
How Much Time It Takes to Develop a Scooter Sharing Application
Each business owner needs to get the application for their business goals in ASAP mode. Yet there are real figures about time expenses for scooter-sharing app development. 
Designer's work – 80 hours.

Application front-end developers' work – 360 hours.

API and back-end developers' work – 280 hours.

CMS developers' work – 140 hours.

Device API developer's work & QA – 160 hours.
The total timeline was of 1020 hours so you should adhere to it when planning your business' start.  
Costs Required for E-Scooter App Development
The second but not the last question business owners are tortured with when planning to start an e-scooter sharing business is the cost of the application for it. As the practice shows, the pricing depends not only on the complexity of the task but also on the team you engage to perform it. Let's compare costs for e-scooter app development by  US and Eastern European developers.
An average rate the team from the US will claim is $75 per hour so the total cost of the application will be $76,800 no less.

An average rate the Eastern European team claims is $40 per hour. The total cost of the application will be $40,800.
Make your conclusions to get your e-scooter application for the budget you suspect to spend on it.