5 Reasons To Use Magento For Your E-commerce Store
If WordPress is a noteworthy content management platform, then Magento is one of the most popular e-commerce stands for most of the online stores lately. Some of the major brands like Nike, Samsung, Lenovo, Vizio and more are using Magento globally. The size of the business doesn't matter as Magento helps in covering medium to even smaller commercial enterprises with the same level of dedication like working with bigger names in the market.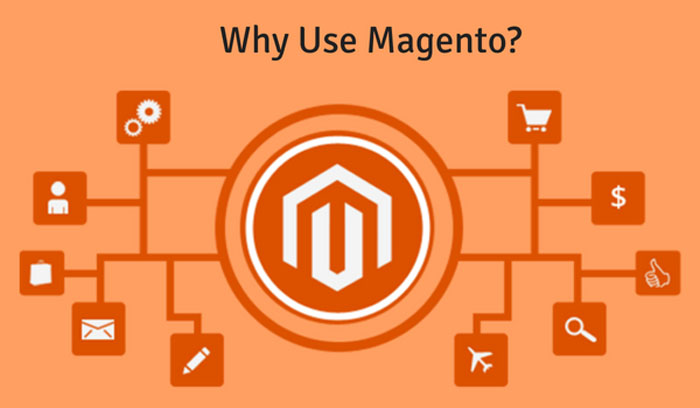 Now, it is time to learn more about Reasons To Use Magento For E-commerce. Recent pie-charts show that around 24.6% of market share in e-commerce industry is that of Magento, but why. To find that answer, let's just head for some details.
1.     It is an open source platform:
Magento Community Edition is free of cost. Users have the right to install or even use any of the Magento CE versions. Magento experts can improve performance rate of Magento store. Thus, it helps in promoting e-commerce websites with new functions and features by developing or even installing Magento modules. Users will find huge libraries, comprise of modules at Magento Marketplace or Magento Connect. After harnessing the impeccable power of open source platform, Magento is now leading the charts of e-commerce industry.
2.     Robust form of inventory management systems:
Magento has been built to be a comprehensive form of e-commerce solution, unlike Drupal or WordPress, which are just CMS platforms with integrated apps. Even Shopify fails to offer the extensive dashboard just like Magento.
Mainly because of its extensive dashboard, Magento turns out to be more efficient for managing day to day work of items, which you are listing for sale.
You have the right to list around 500,000 items within single page. Furthermore, you can create customized product catalogs and groupings for easily showcasing the items on sale.
You can use some automatic image resized features to present to shoppers with better browsing feel. On the other hand, you will receive comprehensive and simple perspective on inventory from administration dashboard.
According to some experts, simplicity and easy usability will make Magento excellent choice for managing inventory and store.
3.     Noted to be highly scalable:
Magento is best suited for smaller e-commerce companies, which are serving one state or town, or even some multinational companies. you can see the platform growing with your business, no matter whatever kind of enhancements or e-commerce features you need. Magento will never fail to surprise you pleasantly. This might be the reason for so many Fortune 500 companies to use Magento for covering some of their complex e-commerce operations.
4.     It supported total customization:
To work on Magento, you need to hire magento developer with experience. Being completely open source in nature, Magento supports total customization. Here, IP Laws will not protect any code and there are no features locked from modifying. If you get the opportunity to hire dedicated PHP specialist or other techy with experience in dealing with Magento, sky is definitely the limit!
You now have the liberty to customize anything related to your store.
Right from the functionality to the theme, you can change anything you want. You can further change the payment procedures as per your business needs.
The customization will help to set your e-commerce stores separated from the rest of competitors.
If you truly want an entire modular e-commerce solution, which can be modified for presenting you with the total control of how it feels and looks, then Magento seems to be the finest option on market.
5.     Multitasking and flexibility:
Magento helps you to perform various tasks at one time. This process helps you to work on other mandatory things in the time you just saved. Developers and merchants even have the right to manage all kinds of billings, items and customer based information with the help of a user-friendly and single admin panel.
If that's not all, then Magento developers are trained to create stunning and unique user experience or front end. It is based on various devices used and their different accessibilities. Magento further has the right to customize your back-end needs of store for meeting specific requirements. Thanks to this open source platform, you can easily take complete control over interfaces and even on processing capabilities of core e-commerce solutions.
It gets a lot of attention:
The above-mentioned points are 5 of the many positive signs, which make Magento a leading choice among the e-commerce store owners. Most of the time, it gets highest attention rates from developers and merchants, especially when they are trying to create advanced e-commerce platforms. Developers are in love with Magento because of its flexibility, as it provides them the right to customize store according to client's requirements. On the other hand, merchants favor this platform mainly because of its multiple and out of the box functionalities. It has so much to offer!
About Author:
Tracey Jones has been working as an experienced Magento developer at HireMagentoGeeks Ltd – The best agency for hire magento programmer and she handles all projects with her team of expert developers. She is a passionate blogger and loves to share her knowledge with a large community of  Magento.